Duplex and Super Duplex Sheets and Plates
Riddhi Metal Corporation provides wide range of premium quality duplex(ASTM A240 / ASME SA240)and super duplex (ASTM A790 / ASME SA790, ASTM A789 / ASME SA A789) sheet/ plates to all our valuable customers across the world. Duplex stainless steel plate contains generally large amounts of chromium (somewhere around 18% and 28%) and low to direct measures of nickel (somewhere around 1.5% and 8%). The high corrosion resistance and superb mechanical properties of duplex stainless steels can be combine the best attributes of both austenitic and ferritic stainless steels and provide high strength/ductility with good corrosion resistance to corrosion (including stress corrosion cracking). This gives them a significant advantage over 300 and 400 series stainless steels. Duplex stainless steels are in most cases, tougher than ferritic stainless steels. Qualities of duplex stainless steels can at times be twofold that for austenitic stainless steels.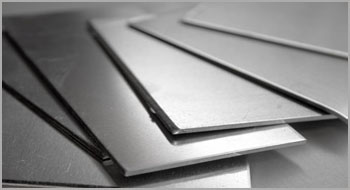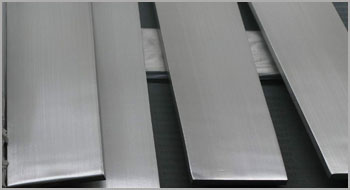 Super duplex stainless steels are generally more complex, more highly alloyed materials with PREn (Pitting Resistance Equivalent number) = 40.0 and offer even higher strength and corrosion resistance making them suitable for very demanding applications such as offshore marine engineering.
The duplex and super duplex sheets/ plates are appreciated in the applications that require great corrosion resistance and exceptional strength. The duplex and super duplex sheet/plates offers tremendous resistance to chloride stress corrosion, low thermal expansion coefficient and high thermal conductivity. Also, high levels of molybdenum, chromium and nitrogen provides exceptional resistance to crevice, pitting and general corrosion.
RANGE
5mm To 100mm thick in 1000 mm To 2500mm width & 2500 mm to 12500 mm Length available with Nace MR 01-75.
1 mm To 3 mm thick in 1000 mm to 2500 mm width & 2500 mm to 12500 mm Length available with NACE MR 01-75
QUALITY
UNS S31803, S32205, S32750, S32760
TYPE
Sheet, Plates, Coils, Flat, Strips, Profile, Blank, Circle, Ring etc.
There are number of characteristics in the duplex and super duplex sheet/plates offered by us have great workability and weldability, high quality, blend of ferritic and austenitic blend properties, low thermal expansion rate and so on. By virtue of these qualities, the duplex and super duplex sheets/plates are widely utilized as a part of assortment of utilizations for example:

Heat exchangers
Oil field piping
Food process equipment
Sea water equipments
Chemical process vessels
Petrochemical equipments
PBleach washers
Pulp mill digesters
Chip presteaming vessels
Our Exports:
Riddhi Metal Corporation exports Duplex and Super Duplex Sheets and Plates in Gulf Countries of Kuwait, Bahrain, Iraq, Oman, Qatar, Saudi Arabia and the United Arab Emirates (UAE) and also in Eupropean countries of Netherland,Italy, Norway, Slovenia, Spain, Sweden, Switzerland.Also in counties such as United States Of America, United Kingdom, Australia, South Africa, Mexico, Turkey, France, New Zealand, Angola, Congo, Kenya, Lebanon, etc